Bots mit künstlicher Intelligenz
ENTERPRISE CONVERSATIONAL AUTOMATION PLATTFORM

Bots mit künstlicher Intelligenz
ENTERPRISE CONVERSATIONAL
AUTOMATION PLATTFORM

Enterprise Conversational Automation Platform
Zur Realisierung von Lösungen mit künstlicher Intelligenz und Conversational Automation für Chat- und Voice Bot hat CCT eine Partnerschaft mit dem Hersteller Cognigy geschlossen. CCT verwendet zur Umsetzung die Cognigy Conversational AI Plattform für den Cloud oder Premise Einsatz. CCT hat zusätzlich die Integrationen mit der CCT ContactPro Lösung und für das Avaya Experience Portal IVR realisiert.
Hierbei werden vollautomatische Chat Bot Funktionen realisiert und diese mit dem Agent Chat integriert. In Verbidung mit Cognigy und dem dem Avaya IVR werden weiterhin Voice Bot Funktionen mit Spracherkennung ASR und TTS text to speech realisiert. Für die Spracherkennung ASR und die text to speech TTS wird hierbei Nunace, LumenVox oder auch Twilio eingesetzt.
CCT bietet hierbei Lösungsberatung, Lösungsdesign, -erstellung und -betrieb für Enterprise Conversational Automation-Projekte an.

Artificial Intelligence
Powerful machine learning algorithms empower your AI and enable a human-like conversation, maintaining conversation context.

Personalized Interactions
Contact profiles store user information and characteristics to enable fully-personalized conversations.

Interactive transactional Processes
Fully automated Conversational business processes designed of using a graphical "Conversational Process Editor".

24/7 Agent
Using Cognigy AI's human handover functionality, a human agent is just a few clicks away, whenever needed.
Cognigy.AI – The Conversational Automation Platform
Automate customer and employee services through Conversational AI
GRAPHICAL CONVERSATION EDITOR
Create advanced conversational solutions with our powerful, easy-to-use editor
ADVANCED AI-BASED UNDERSTANDING
Spark the conversation with powerful, integrated NLU
OMNI-CHANNEL INTEGRATION EXPERIENCE
Deploy your Bots on any conversational channel within seconds
CONTACT MANAGEMENT
Manage Contact Profiles for 1:1 personalized interactions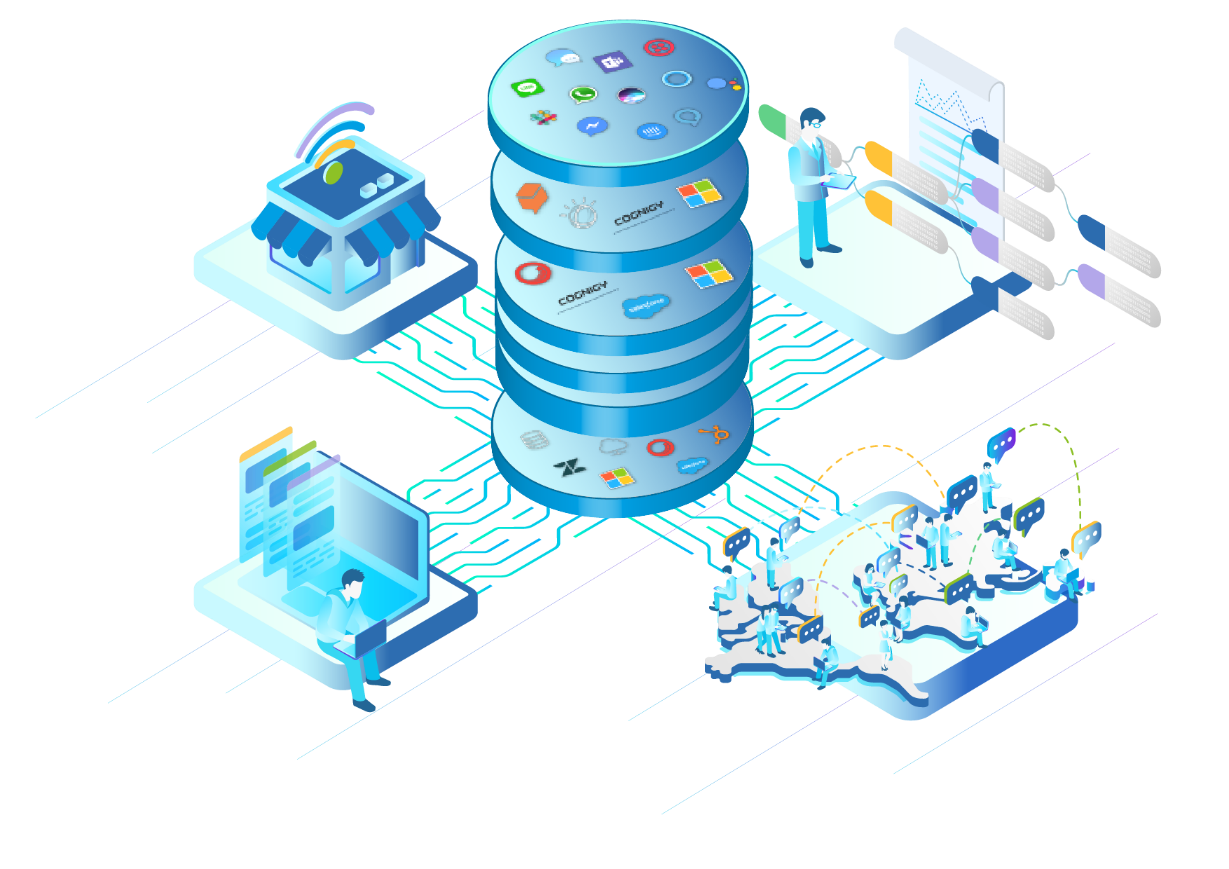 AGENT LIVE CHAT
AI support from Bot to Agent via Agent Handover directly in Cognigy.AI Transfer from Bot to Agent and bring AI insights to your live chat
THIRD-PARTY SERVICES
Integrate out-of-the-box with CRMs, ERPs, eCommerce and other backend systems
CUSTOMIZATION WITHOUT CONSTRAINTS
Cognigy.AI gives developers full control in code and configuration
ENTERPRISE-LEVEL OPERATIONS
Integrate Conversational AI into your enterprise infrastructurens
INSIGHTFUL ANALYTICS
Learn from what your customers are saying