Competence
The integrated and holistic approach of CCT Solutions leading Multi-Experience solution enables companies to build strong customer relationships, reduce costs and increase revenue.
Solutions and expertise for your success
CCT is leading the way in Multi-Experience customer engagement solutions. CCT helps companies communicate with existing contact channels and next generation customer interactions. CCT provides web and mobile based applications for on prem and cloud deployments. This includes the automation of voice, web, email, chat, co-browsing, instant messaging and video, ensuring customer service agents and knowledge workers adapt easily to the changing customer expectations, decreasing contact center costs and providing efficient relationships with their customers.
Contact Center as a Service
A customer journey consists of more than just individual transactions. Every customer experience influences future decisions. With a cloud-based contact center, you can always make the experience simple, effortless, seamless, and context-driven, and memorable for customers and employees across all touchpoints.

While you gain deeper insight into your customers' needs, your teams become more efficient and effective. CCT Solutions is a leader in contact center solutions and we can deliver best in class results, the way you need it.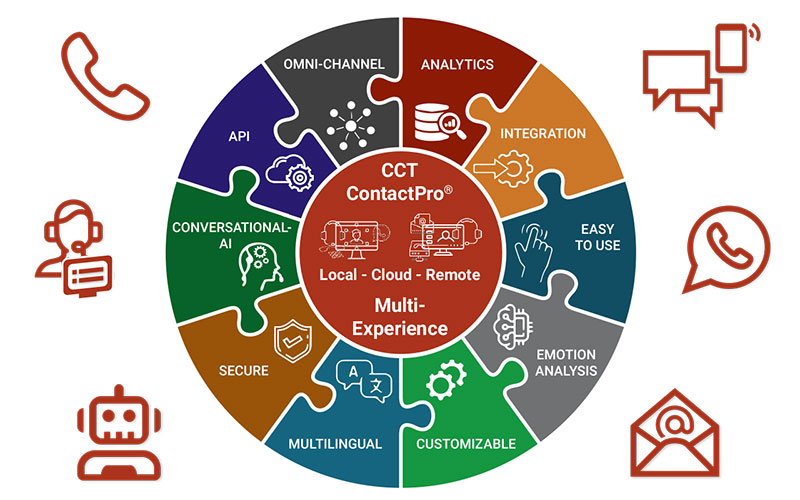 Solutions and Services

CCT's solutions are built on powerful and robust technologies, developed with modern tools in accordance with the latest standards.  The modular architecture of our solutions allows us to implement innovations and upgrades efficiently.  A team of well trained architects and engineers assures optimized design, perfect integration and reliable support.

Customers
CCT serves customers around the globe. Focused on midsized and large organizations wanting to achieve a competitive advantage with individually designed communication and contact center solutions.

Flexible Integration
Custom specific implementations provide the best possible integration of existing systems and new components. Enabling demand-oriented activation of innovative functions and services.

CCT ContactPro®
CCT ContactPro® is a powerful and scalable omnichannel
contact center solution with an excellent agent desktop and intelligent automation functionality. Enabling efficient services for an excellent customer experience (CX).

Support
To fulfill individual requirements CCT offers tailored support and managed service. Our experts are available 24 by 7 to assist and help clients or to deliver proactive services.

Partner
CCT works with selected technology partners. Operating and support structures are precisely coordinated with the processes of our partners in order to guarantee the best service for our customers.

Qualified Team
Our employees are certified experts. Constant training and education as well as knowledge transfer with our partners assures professional implementation and excellent support.
Multi-Experience Management
Experts

Customer like to choose the easiest and fastest channel, they always expect the perfect interaction with a Business. Modern ways in automated customer interactions have increased the need for a powerful easy to use agent desktop. To meet the customers expectations Agents need more context related information and the possibility to communicate through different channels at the same time. CCT's Multi-Experience Management Experts assure that concept, configuration and professional project implementation happens in accordance with the highest quality standards. CCT ContactPro® is a therefore a core component in many projects. It allows smart adoptions and supports the agent with the right information for an optimized and efficient customer interaction.
Unified Desktop Automation
CCT ContactPro® (CP) is the intelligent interface to the agent. CP consolidates information and guides the customer service representative through all inbound-outbound omni-channel customer interactions.
Consulting, Support and Operational Excellence
Quality you can count on!

Certified Experts
CCT support is tailored to the individual requirements of the customer. The certified support-processes are aligned with Avaya and other partners.

Global - 24 x7
CCT support engineers are available 24 by 7 to support customers around the globe. Proactive services with intelligent monitoring applications ensure high availability.

Flexible Operation
Customer centric implementation and integration uses the existing environment and systems in a best possible way while delivering new functions and services with a scalable growth path for the future.

Agile Processes
Software development, implementation team and support work hand in hand. This is crucial for rapid problem solving and a robust solution design.
Selected high reliability and great performance
In our projects we use comprehensive software solutions from well known vendors in the enterprise software market. With these products, we provide extensive experience and offer end-to-end solutions. We apply these extensive experiences as a basis for your integration project. The focus is on design, implementation and operation of integration, as well as optimizing the utilization during the entire life cycle.