CCT has partnered with Cognigy to implement artificial intelligence and conversational automation solutions for chat and voice bot. CCT uses the Cognigy Conversational AI platform for cloud or premise deployments. CCT has also implemented the integrations with the CCT ContactPro solution and the Avaya Experience Portal IVR.
Fully automated chat bot functions are realized and integrated with the agent chat. In conjunction with Cognigy and the Avaya IVR, Voice Bot functions with speech recognition ASR and TTS text to speech are also implemented. For speech recognition ASR and text to speech TTS, Nunace, LumenVox or Twilio are used.
CCT is happy to provide Solution Consulting, Solution Design, Build and Operations für Enterprise Conversational Automation projects

Artificial Intelligence
Powerful machine learning algorithms empower your AI and enable a human-like conversation, maintaining conversation context.

Personalized Interactions
Contact profiles store user information and characteristics to enable fully-personalized conversations.

Interactive transactional Processes
Fully automated Conversational business processes designed of using a graphical "Conversational Process Editor".

24/7 Agent
Using Cognigy AI's human handover functionality, a human agent is just a few clicks away, whenever needed.
Cognigy.AI – The Conversational Automation Platform
Automate customer and employee services through Conversational AI
GRAPHICAL CONVERSATION EDITOR
Create advanced conversational solutions with our powerful, easy-to-use editor
ADVANCED AI-BASED UNDERSTANDING
Spark the conversation with powerful, integrated NLU
OMNI-CHANNEL INTEGRATION EXPERIENCE
Deploy your Bots on any conversational channel within seconds
CONTACT MANAGEMENT
Manage Contact Profiles for 1:1 personalized interactions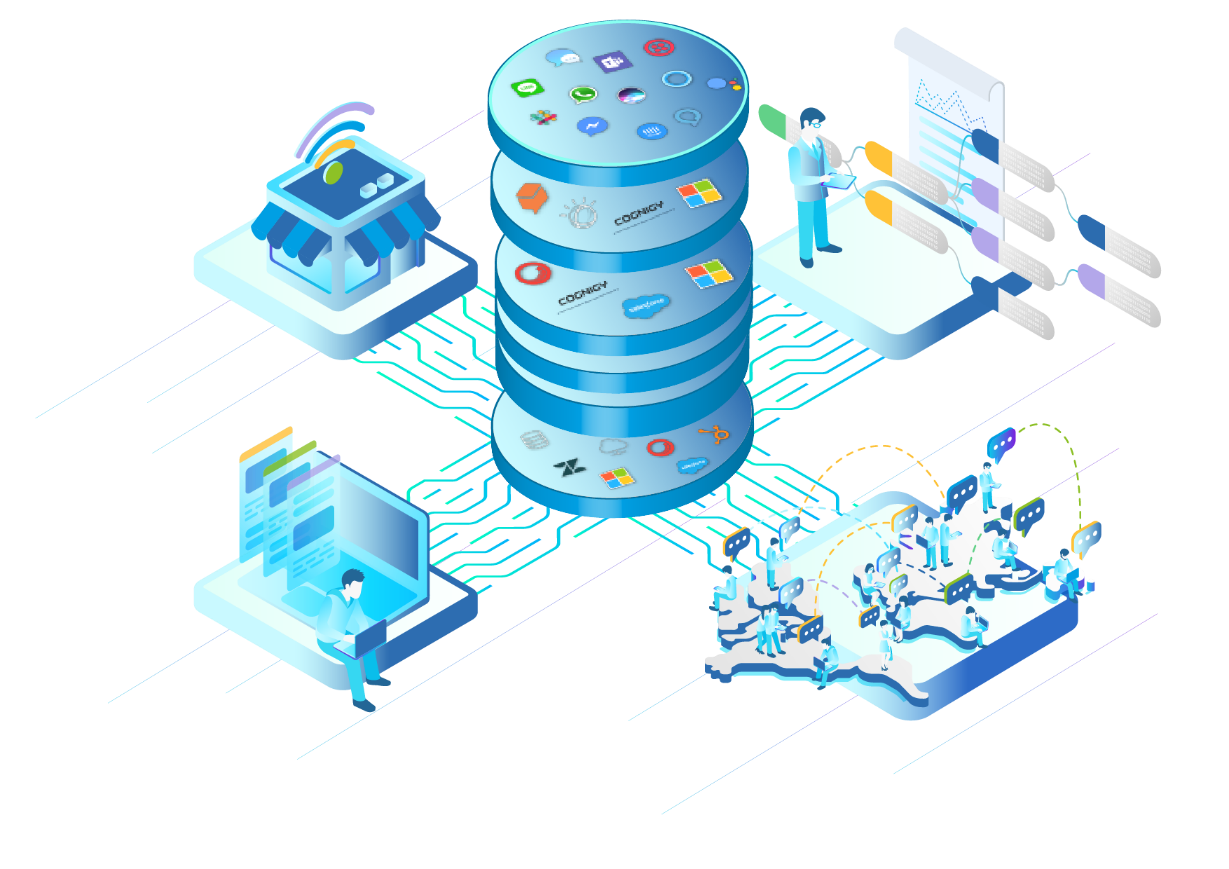 AGENT LIVE CHAT
AI support from Bot to Agent via Agent Handover directly in Cognigy.AI Transfer from Bot to Agent and bring AI insights to your live chat
THIRD-PARTY SERVICES
Integrate out-of-the-box with CRMs, ERPs, eCommerce and other backend systems
CUSTOMIZATION WITHOUT CONSTRAINTS
Cognigy.AI gives developers full control in code and configuration
ENTERPRISE-LEVEL OPERATIONS
Integrate Conversational AI into your enterprise infrastructurens
INSIGHTFUL ANALYTICS
Learn from what your customers are saying